I currently own three awesome Carparelli guitars, My first was a purple Arco F1 which is without doubt an awesome guitar and you can read more about it below. Next came my Carparelli Infiniti with zoom effects built in, this is an excellent axe to practise with due to the headphone, effects and rhythm features, it looks really cool too. Thirdly is a variation on the Arco but this time a semi hollow with a slightly different pick up arrangement and styled in a beautiful blue, this is not only my favourite guitar to play but may also be my favourite to look at too!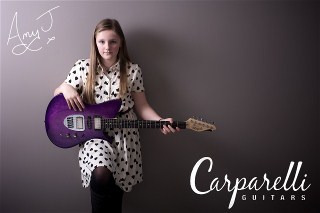 My Carparelli Arco F1
by Amy J Bannister
John Davis of Carparelli UK asked me to explain what I liked about my first Carparelli guitar, the Arco F1, please see my thoughts
below.


Because my Arco is so nice itís very hard to choose just one thing that I like about it, but probably the best thing is how low you can get the action. In fact the action is the lowest Iíve ever seen on a guitar yet there is not a single bit of fret buzz.
Another thing is that the neck is so smooth and slim enabling you to just glide along it. Also with a lot of guitars you have to change them a lot to make them just right for you but with this guitar all I changed was the action to how I like it and voila, itís as if it has been made especially for me.

One word to describe my Arco F1 - ďMEĒ - Itís perfect for me and as soon as I got it... I knew it was mine as it felt like an old friend that I love. It just felt right straight away and I knew it would be the main guitar that I will play for many years to come.
Five of my favourite features on the guitar are:
The locking machine heads - This makes it really quick and easy to change strings and tune them in.

The boost switch - this is especially useful when switching from playing rhythm chords in a song to increase the volume for playing the lead.

Pickup combination - I love the combination of humbucker, single coil and humbucker on my Arco F1 as the five way selector switch gives me a fantastic range of sounds and nice general feel to the guitar.

Body shape - Firstly it is very different and stylish but secondly it fits me perfectly which is of course very important and finally it is so beautiful to look at.

Acoustics - Even playing this guitar not plugged into an amp it sounds great, loud and bold yet gentle and clear, awesome in fact.
This guitar is just simply AMAZING!